[ad_1]

At first glance, the "new" Force AXS group looks like a shiny, completely new group. Fresh graphics with subtle-yet-shiny paint catches the eye, and the one-piece chainrings and slimmer brake hoods give it a sharper, higher-end look. Both are huge improvements to the group.
Hiding under the hood, though, are a big collection of incremental running changes that have been added to both Red and Force groups over the years and finally getting codified here.
As a quick background, SRAM does a great job of making continuous minor updates and improvements to their products, but, and perhaps surprising for the brand, a really bad job of talking about them. So many of the "new" things "introduced" here formally have actually been on the group for some time.
A few more noteworthy things: They're (finally) dropping "eTap" from the name. It's now just Force AXS, not Force eTap AXS. And, along with 2x Force AXS road group, the 1x XPLR gravel group becomes a proper "Force" group with the same updates, graphics, and details. Together, they're a more cohesive collection of high-end yet approachable drivetrains for drop bar bikes.
2023 SRAM Force AXS details
If you recall, Red eTap launched as their sole 12-speed electronic group. Then, when the AXS version came out, Force AXS debuted alongside it, giving their first 2nd tier electronic group.
Now, it gets its own launch, thankfully drops the eTap nomenclature, and reimagines what a 2nd tier group can offer…trying really hard to eschew any stigma the term "2nd tier" might convey.
To kick that off, it gets a new premium finish. A bit of gloss and sparkle in the Unicorn Gray brings it to life in the sun. That's accented with shiny logos that have a bit of rainbow flash in daylight, too. Fortunately, beauty is more than skin deep. Here's what's new about each component…
Shifters
The hoods get a refined shape…which is actually the same as the latest Rival group, with a smaller diameter that tapers down toward the front to create more finger clearance, finger wrap, and easier grip, particularly for smaller hands.
The brake reservoir hump at the front is smaller, too, and the levers and pivot point are a few millimeters closer to the bar, making it easier to brake with one or two fingers while riding in the hoods.
Two main things let them make the hoods smaller and bring the levers closer – eliminating the pad contact adjust, because they found that many riders never used it or even knew it was there, and removing the auxiliary Blip port.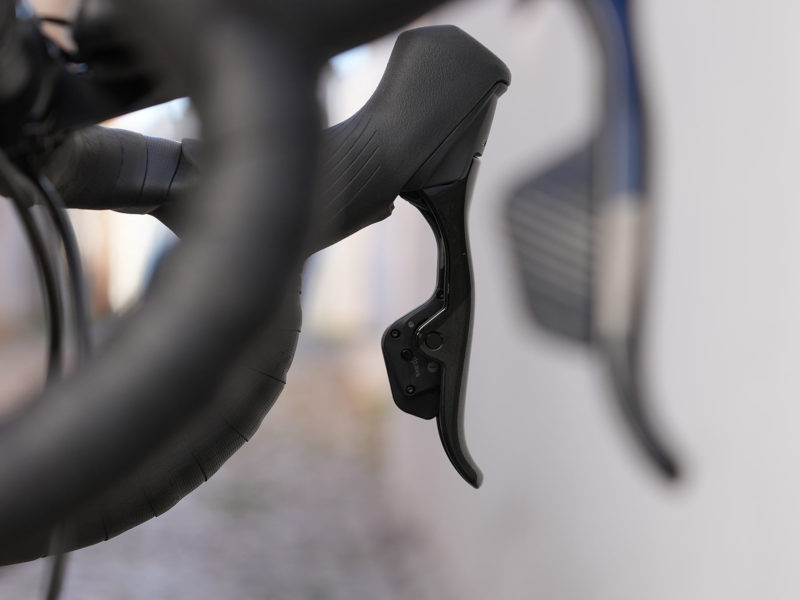 Now that they have wireless Blips, the port was unnecessary, and you can connect up to six Blips if you want multiple shift locations. Also, it now makes the system 100% wireless, and with so many Blips able to be connected, they joke that it's "even more wireless" than the competition.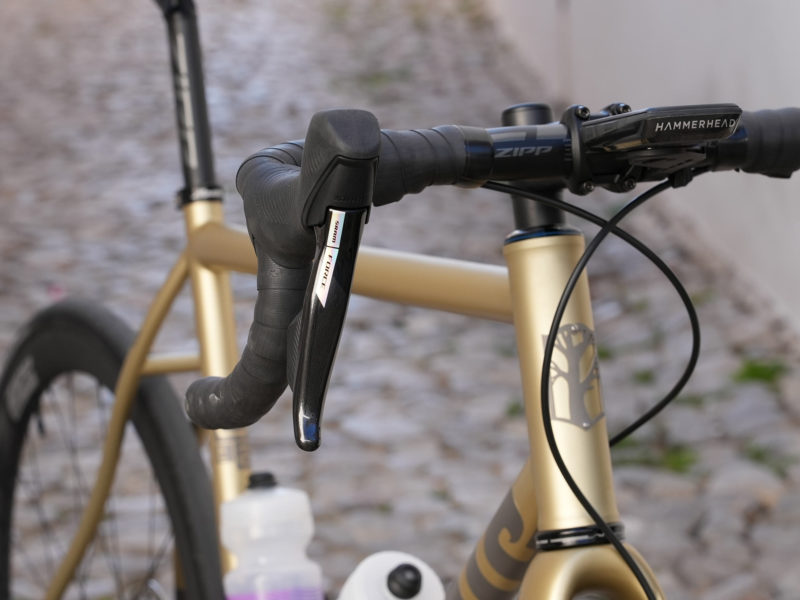 But, compared to Rival, Force has upgraded brake levers (carbon instead of alloy), and and a new shift paddle profile. The shift paddle is a bit longer, but also tapered to improve clearance at the bar when you're pulling it really far into its travel.
Brakes
Running changes to the existing Force over the past couple years have brought about several improvements, and this group gets all of them. That means a two-piece caliper body that works better because they can better machine all the plumbing inside when it's done in two pieces.
Better roll back of the pistons thanks to a better gland around the piston seals means increased pad retraction, which means less pad rub even if the rotors get a bit out of true. And the caliper is stiffer for a more solid braking feel.
It comes with their Paceline rotors, which carry over unchanged.
Crank Arms & Chainrings
Crank arms are easy: They're the same as before, just with a new finish.
The chainrings are new, though, and SRAM had two goals: Improve shifting performance, and drop weight.
They achieved it by switching from a typical spider+chainrings to a one-piece machined 2x chainring unit, same as Red, available with or without a Quarq power meter. This design makes it stiffer and lighter. With the Power Meter option, it saves about 85g versus the prior version.
And that power meter is now integrated, like with Red, which means if you need to replace your chainrings, you're also replacing the power meter. But, as with Red, they say you'll get a lot of miles out of it before it needs replacing…and, it's a lot less expensive than the Red chainrings.
For those with "chainring wear anxiety", they say that people have largely gotten over it because the rings last longer than folks thought they would, due somewhat to their unique chainring combos, which mean people are shifting the front chainring less often.
But, if you're hung up on it, they'll still offer the standard four-bolt power meter spider that you can swap rings on and off.
It's a bit heavier, but if you frequently swap chainrings for different courses or ride in foul conditions that grind down teeth more quickly, maybe that's the better option for you. And if it is, they've eliminated the cosmetic cover that came on the original Force eTap AXS, which could contribute to some running noise.
The chainring+power meter unit now has a 10% discount on replacements. Not quite the 50% discount offered with Red, but Force's chainring significantly less expensive. Which is surprising, because it's the same piece of metal, only the finish differentiates Red from Force chainrings now.
As for sizes, they added the biggest 50/37 chainring combo, which was previously only available for Red. Others are 48/35 and 46/33.
For gravel riders that love a 2x group, there's a single 43/30 option for the Wide crankset (which has a wider chainline and requires a specific Wide front derailleur). It will have the same new chainring design, but is for bikes built around wider tires and wider range cassettes.
Available crank lengths are 165, 167.5, 170, 172.5, 175, and 177.5mm.
Front Derailleur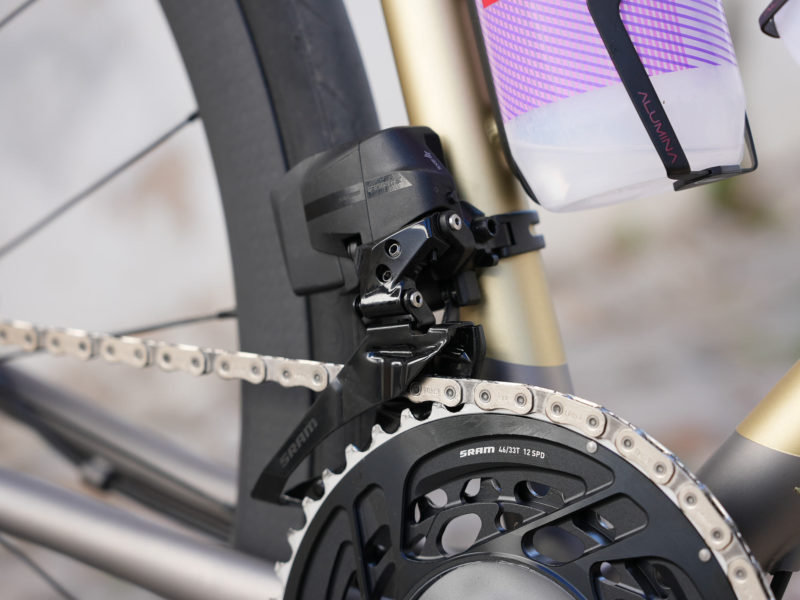 The front derailleur's architecture carries over, just with the new Unicorn Gray finish. But it gets some new setup features to make installation easier.
A new guide tool lets you set it on the big chainring as you tighten it onto the braze-on/clamp, essentially putting it right where it needs to be.
Guide marks are made a bit more visible in case you need to make fine adjustments or re-adjust later on, but you can also just put the guide tool back in there if you're reinstalling or changing chainring sizes.
Rear Derailleur & Cassette
Running changes from the past couple years are all implemented into all 1270 Force cassettes. These include a damper ring between the two largest cogs to reduce noise, and the early switch away from that awesome looking all-black finish to the current Nickel Chrome finish.
They say this finish is quieter, smoother, and more durable than prior finishes.
The group has four cassette options: 10/28, 10/30, 10/33, and 10/36. There's no more 10/26 cassette offered, mainly because no one wanted it.
The rear derailleur has the same architecture as before, but now there's just a single model to handle all four of those cassettes. It's compatible with anything up to a 36-tooth large cog if you're running a different brand cassette for some reason…keeping in mind that SRAM's Flat Top chains are optimized specifically for their cassettes, of course.
Otherwise, there's no new tech, or even shapes, it's just cosmetic changes. It still has carbon outer/aluminum inner pulley cage plates, with steel bearings inside the pulleys, and the Orbit damper for chain management on bumpy roads.
2023 SRAM Force Pricing
Perhaps the best news? All of these updates and the much lighter new chainrings come with no price increase. The new SRAM Force AXS components are the same price as the prior version.
Shifter/Brake Caliper, Front – $350 (€255 / £228)
Shifter/Brake Caliper, Rear – $350 (€255 / £228)
Rear Derailleur AXS – $377 (€360 / £302)
Rear Derailleur XPLR – $369 (€343 / £306)
Front Derailleur – $243 (€222 / £198)
1x Crankset w/ spindle PM – $585 (€632 / £565)
1x Crankset – $275 (€330 / £295)
2x Wide Crankset w/ spindle PM – $585 (€632 / £565)
2x Road Crankset w/ PM – $800 (€865 / £772)
2x Crankset – $275 (€330 / £295)
2x Power Meter Chainring – $410 (€443 / £396)
2x Chainring – $245 (€265 / £236)
Cassette – $195
XPLR Cassette – $222
Chain – $50
The good news is you can upgrade these one-piece chainrings onto any crankset that accepts SRAM's 8-bolt mounting standard. It's not compatible with their 3-bolt DM standard, typically found on their MTB cranksets.
Force eTap versus Force AXS weight comparison
Compared to the prior Force eTap group (D1), the new 2x Force AXS (D2) road group with power meter saves ~94g. The new 1x Force XPLR AXS group saves 101g with power meter. Exact savings will depend on chosen chainring size/combo.
Weight savings come mainly from the new one-piece, direct-mount chainrings, and new shifter lever bodies are significantly lighter.
2023 SRAM Force XPLR gravel group
Taking most of the road group's features onto gravel roads, the Force XPLR group has a few key differences.
They get their own new carbon crank arm, which has a left-side, spindle-based power meter option. It's the same power meter as Rival, but with a lighter carbon crank arm.
This saved 45g over a spider-based power meter, and allows you to easily swap through the new direct-mount chainrings. Which is good, because gravel riders are more likely to change a chainring size based on the course.
And, they get new one-piece direct-mount chainrings, which save a lot of weight, too. Standard and Wide cranksets and chainrings are available
Standard chainring sizes are 38/40/42/44/46 tooth. There are also 48T and 50T aero chainrings for those using a standard 1x crankset for their TT or triathlon bike.
Brake levers and shifter paddles are the same as road, and the textured shift paddles and easier reach are much appreciated on rougher terrain.
The derailleur is different from the road ones, but carries over the same shapes and materials as the prior XPLR group I reviewed, but with the new finishes.
It's compatible with the XPLR 10-44 cassette, and also the largest 10-36 road cassette, but is specifically designed for 1x use only…you can't pair it with a 2x front chainring.
Here are a few photos to show the key differences, illustrating why you can't run the road and gravel derailleurs interchangeably:
The road derailleur is on the left, XPLR on the right. Note the taller B-knuckle on XPLR, whose mounting bolt is also positioned further back.
The cages are different, with the XPLR getting an offset upper pulley that allows for the increased rotation and movement required to move across a wider range of gears.
The road derailleurs have "MAX 36T" etched on the back of hte B-knuckle, and XPLR is branded as such, making them easy to identify.
The Takeaway
If you have a current SRAM Force group or XPLR group, don't sweat this release. It looks great, but the biggest update is the one-piece chainrings, and you can retrofit that to your current Force group. Heck, you can even save a few hundred dollars on your Red group when it's time to replace those rings by getting these new Force ones.
Same for XPLR…the new one-piece are backward compatible, and you can upgrade just the arms if you want to add the single-sided, spindle-based power meter.
The one thing that's a more demanding upgrade is the brake levers. These are more comfortable with better ergonomics for both shifting and braking. Functionally, they're the same, so if you're happy with what you've got, great. If you need to replace your whole group, also great, you'll probably like these a bit better.
Stay tuned for first impressions, and check out the new Rainbow Red cassette and chain, plus a 4-battery AXS charger, in this post.
[ad_2]

Source link