[ad_1]

Shimano announced a free update and upgrade for its power meters, the Dura-Ace R9200P and Ultegra R8100P. Though the new Shimano power meters are a bit of a hard find, the power metrics (for those lucky enough to have one) are plentiful with the recently released upgrade.
The update arrives via the Shimano E-Tube Project App and works with many popular head units.
What head units are compatible with the upgrade?
E-TUBE RIDE Version 2.0 or later
GARMIN: Edge 1030, Edge 1030 Plus, Edge 1000, Edge 830, Edge 820, Edge 530, Edge 520 Plus, Edge 520* (Edge 520 only supports recording Force Vector, not displaying in real-time)
WAHOO: ELEMNT BOLT, ELEMNT ROAM, ELEMNT
Looking at the data output and on-screen graphics, you'll notice a similarity to the Pioneer power meter output. This visual similarity comes as no surprise, as Shimano acquired Pioneer in 2020.
What does the Force Vector upgrade offer?
The new firmware measures the direction and strength of pedaling force through the full crank rotation. If you're a data and pedal geek, it offers most of the information you'd like to know to maximize your pedaling efficiency. Through a preferred head unit, riders can see inefficiencies in their pedal stroke — in real-time.
The force data is displayed and recorded at 12 points throughout the crank rotation (every 30 degrees) on both left and right crank arms and transmitted with every pedal rotation. Shimano says, "Depending on cadence, approximately 10,000 force measurements are recorded by the crankset and transmitted to a head unit every minute."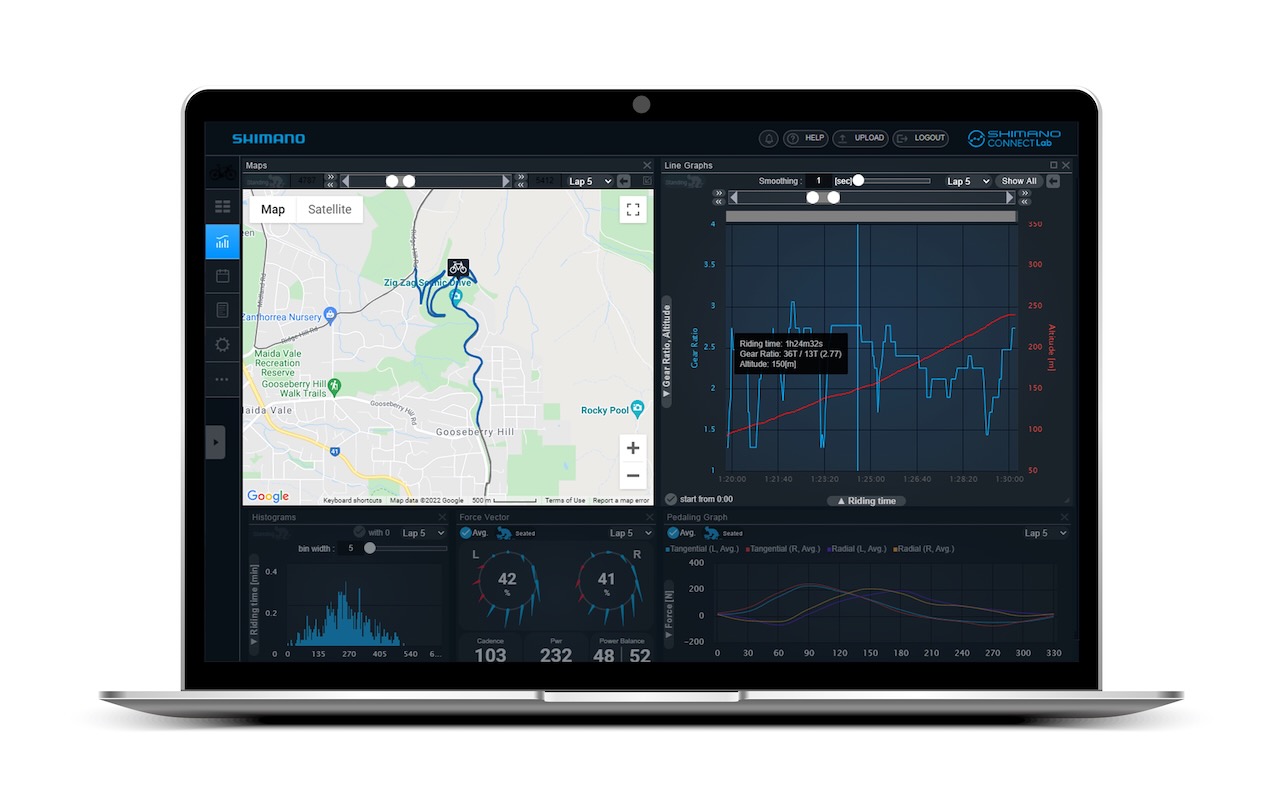 That's lots of data, but what of it is actionable?
If you're riding, the pedaling information looks easy to see and correct if actionable while looking at the pedaling diagram. The animated graphic displays forward rotation forces in blue, while reverse rotation forces in red.
If you're a data-driven rider, the real work starts with analyzing the actual power file. Post-ride, users can examine and explore their complete data using SHIMANO CONNECT Lab via a connection to Garmin Connect, the Wahoo ELEMNT app, or the E-TUBE RIDE app.
Using Shimano's force vector information in training, riders can identify inefficiencies in their pedal rotation, leading to better training sessions and specific work toward increasing riding efficiency over time.
Will it replace WKO4 for finding the power duration curve? Probably not, but the rotational force, pedaling efficiency, shifting, and beyond look promising, and it's free!
In the Shimano CONNECT Lab, riders can see the force applied throughout crank rotations and see which parts of their ride required more sustained power and how effectively they used their pedaling.
Additionally, SHIMANO CONNECT Lab shows how much of the ride was in a sitting or standing position and how many times the rider made front and rear gear shifts. These are pretty unique metrics that can help dial in your riding and possibly increase efficiency for a stronger race/ride experience
How do I get the Force Vector update?
Firmware is available from SHIMANO E-TUBE Project.
For more on Force Vector firmware, including display set-up and transferring ride data to SHIMANO CONNECT Lab, please visit the SHIMANO Power Meter Technology page for your region:
[ad_2]

Source link