[ad_1]

For those who use the radar-equipped Garmin Varia taillight, they love it (myself included), but it always seemed like it could have had just a few more complementary features to make it a truly comprehensive safety piece. It seems that the team at Garmin felt the same.
The updated Varia RCT715 keeps the radar and light but adds a rear-facing camera, extra burly mount, real-world battery life, and a companion app for those who travel without a head unit. And it'll record the footage, saving it for the courts should the unfortunate happen.
Why a camera?
The Garmin Varia's ethos is to give riders peace of mind. Think of the new Varia as a dashcam for your bike, but with radar to help alert you of overtaking rear traffic, and a light so they see you well in advance.
The radar unit works day or night and allows the user to prepare for a passing automobile. With a compatible GPS cycling computer, the Varia shows you where a vehicle is coming (up to 153 yards away) and audibly and visibly alerts the rider as it approaches. Combined with a light that's visible up to a mile away, you can "see" them, and they can see you.
The addition of the camera means you really can see them, at least after the ride, in sharp HD video footage (1080p/30 fps). Recording can be continuous, at the user's discretion, or when an incident occurs, programmable through the new Varia app or via a compatible head unit. A 16GB card comes with the device, but up to 128GB is supported and is easily swapped out.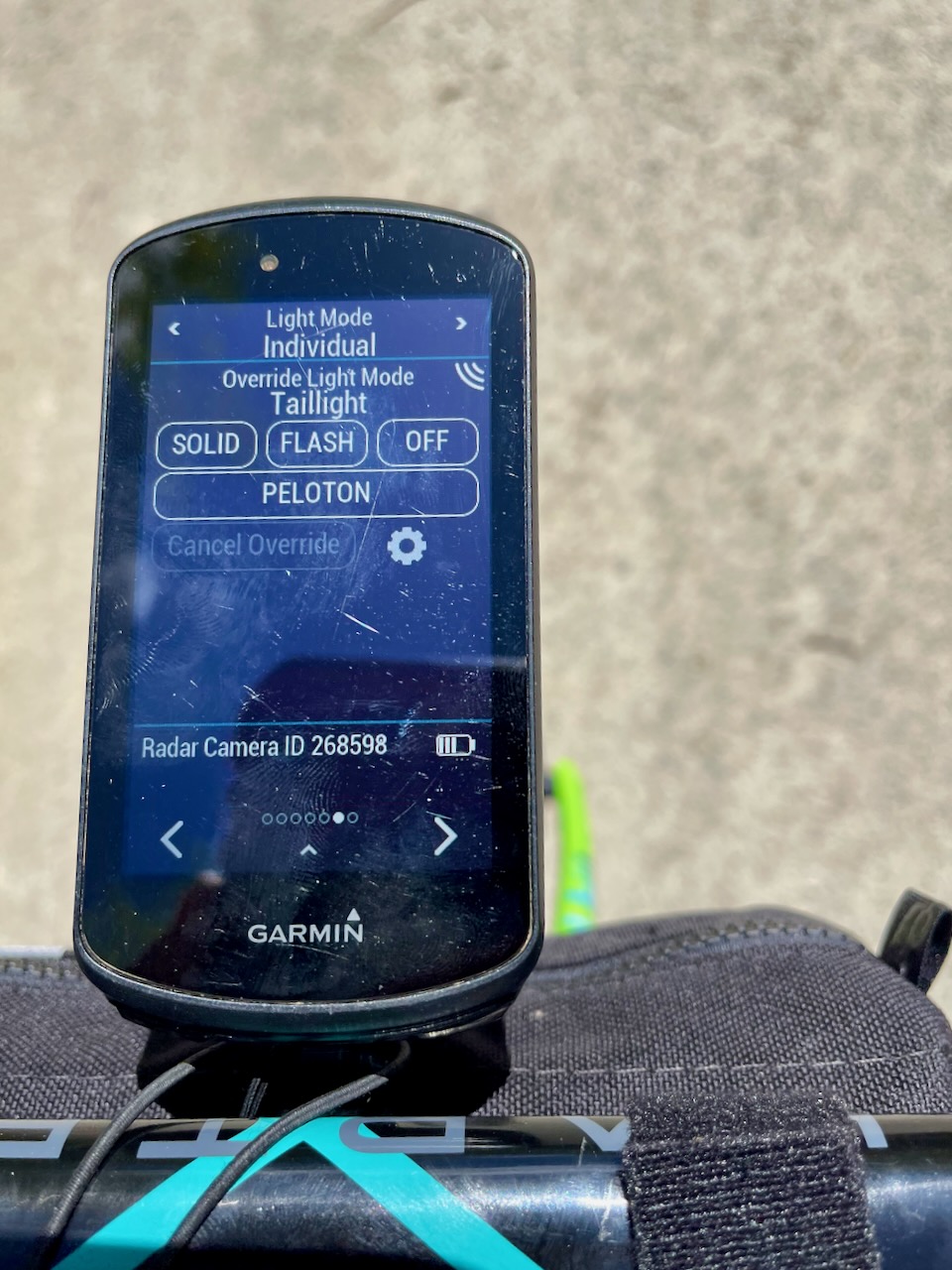 What if I don't have a Garmin head unit?
Not to worry — The new Varia radar (and previous Varia models) will work with all computers (or smartwatches) that support ANT+ radar units. When you download the new Varia app on your phone, you can view camera footage from the Varia RCT715 no matter what head unit or smartwatch you're using, or even if you aren't using one at all. When paired with a compatible smartphone, it integrates with select third-party apps, such as Ride with GPS and allows riders to overlay their maps with rearview radar notifications.
Is that a new mount?
Why yes, it is. The new Varia RCT715 units use a completely updated mount, and it's a complete stop and change from the half-turn mount Garmin uses for its head units and past iteration of the Varia radar. We're guessing this is to stabilize the camera and control the added weight of the new unit.
The new mount employs a metal securing anchor and a locking cam to ensure the unit stays mounted and sturdy. As far as we can tell, Garmin is the only one making this mount, but the unit arrives with numerous seatpost shims and grommets for all shapes of round, aero, and dropper posts.
How about that battery life?
The new Garmin Varia RCT717 battery life varies on what mode you're using and if you're recording. At a minimum, expect to get four hours of battery life with the tail light on Solid High or Night Flash, and up to six hours on Day Flash – all with the radar on and the camera continuously recording at 1080p.
"For years, cyclists around the world have trusted our Varia rearview radars to enhance their awareness of approaching vehicles during a ride, and we are thrilled to add the new RCT715 to the lineup of 'must-have' cycling safety products," said Dan Bartel, Garmin vice president of global consumer sales. "Now, cyclists can head out for a ride knowing the Varia RCT715 rearview radar activated tail light will notify oncoming cars of the presence of a rider, and the built-in camera will continuously record their surroundings and provide video evidence of an incident, should they ever need it."
Key Features — Garmin Varia RCT715
Built-in camera: 1080p/30 fps, (SD Card included)
Automatic incident capture: If an incident is detected, video footage from before, during, and after the event will automatically be saved.
Additional Varia app functionality: Easily access video footage, transfer videos, or customize camera settings, such as data overlays.
Maximum awareness: Visual and audible notifications warn of vehicles approaching from behind, up to 153 yards away.
The Varia RCT715 can be used with a compatible Garmin Edge® cycling computer, Garmin smartwatch, or the Varia smart device app with multiple pairing options. When paired with a compatible smartphone, it integrates with select third-party apps, such as Ride with GPS.
The Varia RCT715 features up to 4 hours of battery life with radar and tail light on solid high or night flash and up to 6 hours with radar and tail light on day flash – all with the camera continuously recording at 1080p.
Type C charging cable
Price: $399.99
Available now on garmin.com
We have a Varia RCT715 and you can read our first impressions here!
[ad_2]

Source link